Renovation diary:
The big reveal!
We've been working on our house for the past two months, and it's finally time for the big reveal! We'll have more projects moving forward, most notably the exterior of the house and the yard — but for now, the inside is just how we want it (cozy, comfortable and our style!)
These before photos were taken the day we visited the house for our inspection (before we owned the house) and so they have lot of the previous owners' furniture in them. I just can't believe it's the same house!
Living Room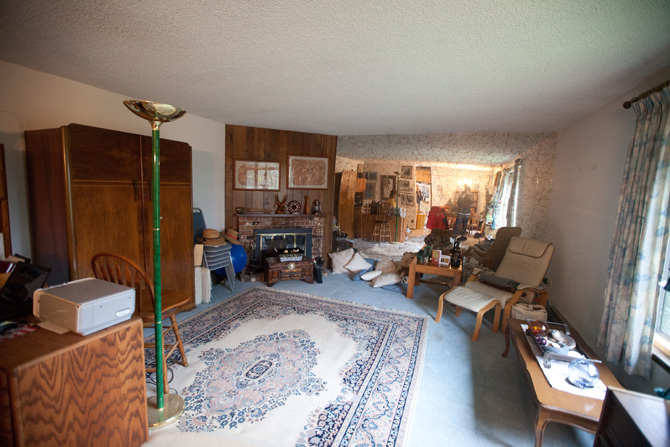 Before, this room was crammed full of stuff with aging, bleached-out carpet and out-of-date window treatments, wood paneling and a wall of mirror tiles that made the room look like a time warp to the 1970s.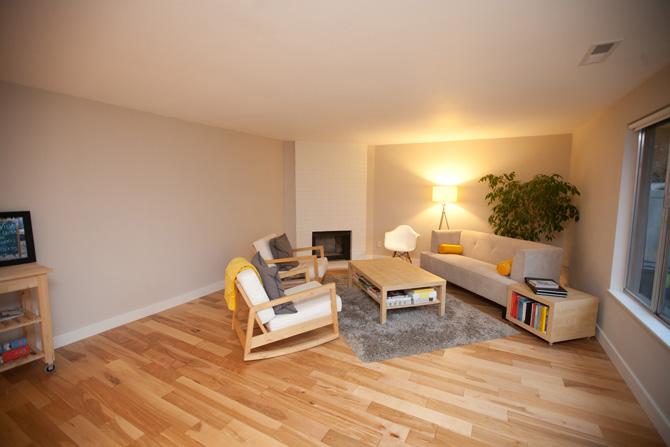 After: We tried to keep this room open and airy, since it has pretty low ceilings. The wall color and big window make the room feel bigger, and the new floors really warm the space up.
Entryway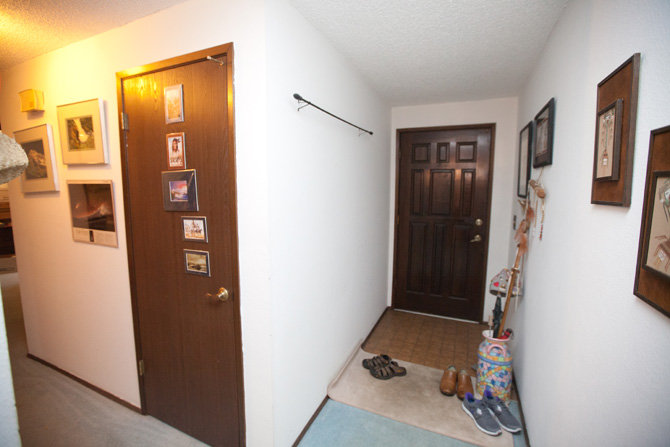 Before: Dark, dated woodwork and linoleum near the entry kept this part of the house very dark. It didn't help that the few light fixtures had yellow glass on them, making a kind of sickly, dark glow down the hallway.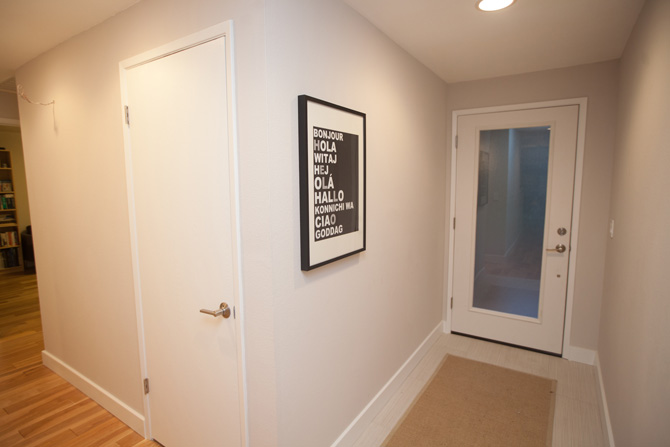 After: We love the new door with diffused glass. It lets in light to what was the darkest corner of the house, and again, paint and floor coverings make the space feel much bigger.
Master bedroom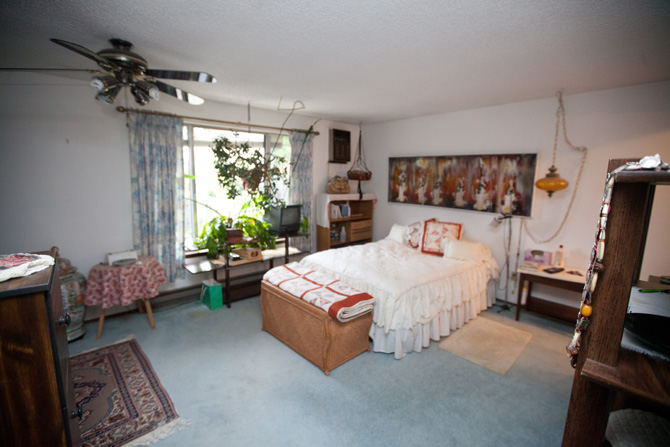 Before, the room was overpowered by huge light fixtures and dark woodwork. It's a nice big room, but it looked dark and smelled damp and musty.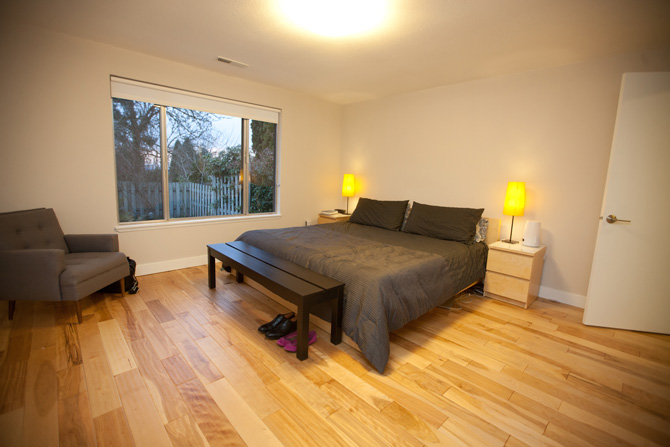 After: This room feels so big, and that's a king sized bed! We love how quiet this part of the house is, and how much light we get though that big window.
Master bathroom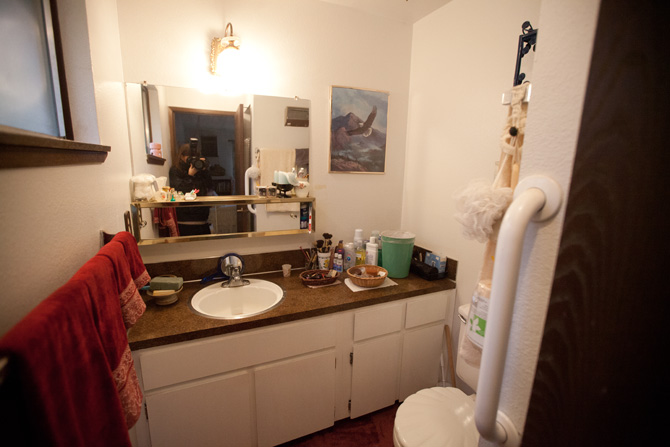 Before: My absolute least favorite room in the house. It smelled terrible (due to the red bathroom carpet and black mold growing in the walls — we found that later) and was completely cramped. The door opened into the room and hid the shower from view, and that was almost better — that shower looked like a tiny torture chamber.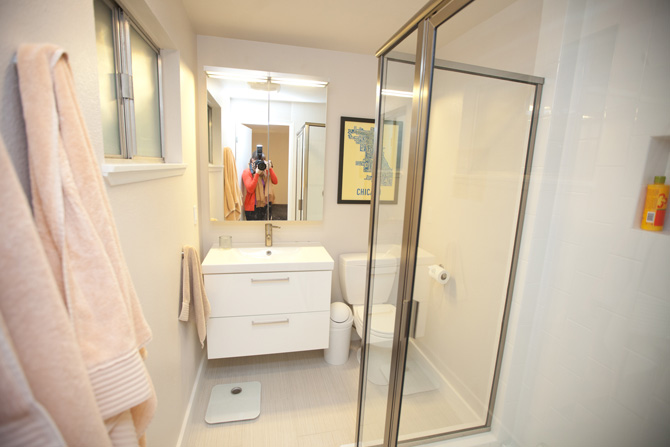 After: This is the biggest of the big reveals! If only I could bring it to you in smell-o-vision. We love our big, wide open shower and all the white opens it right up. Not to mention the TONS of storage in that medicine cabinet.
Hall bathroom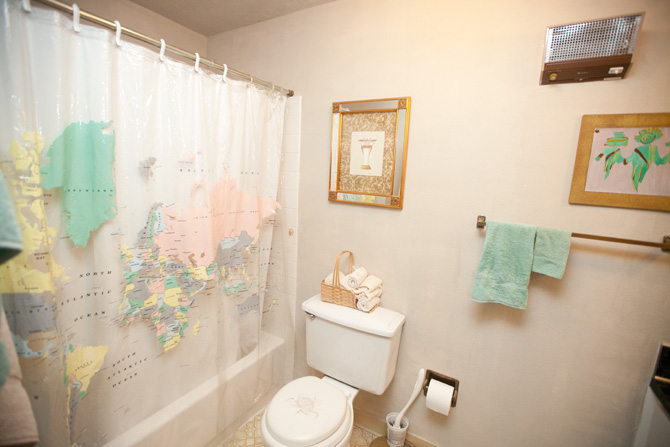 Before: It's difficult to tell from this photograph, but the walls in this bathroom had been wallpapered, then painted over. The linoleum on the floor and 10-gallon toilet (that took 5-6 minutes to flush and recycle) really dated this room. But at least you could learn geography from the shower curtain!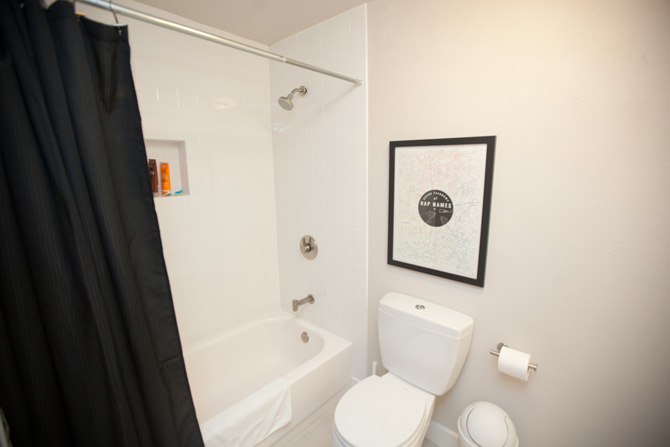 After: New tile, new paint, new toilet and hardware. That tub is the only original thing you see in this photo.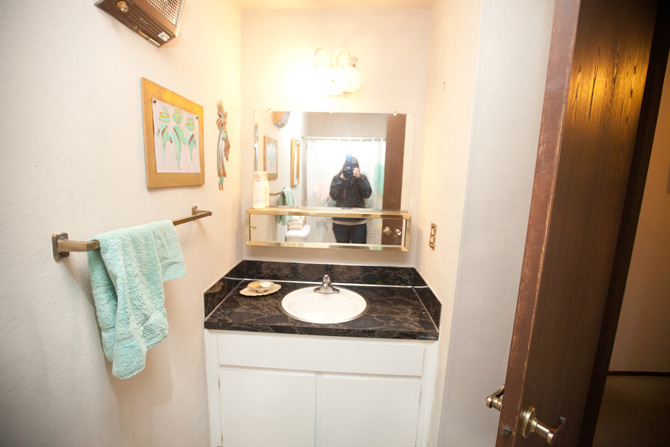 Before: Another view of the hall bathroom shows how much wasted space happened here, due to a really stupid built-in bookshelf that opened to the hallway.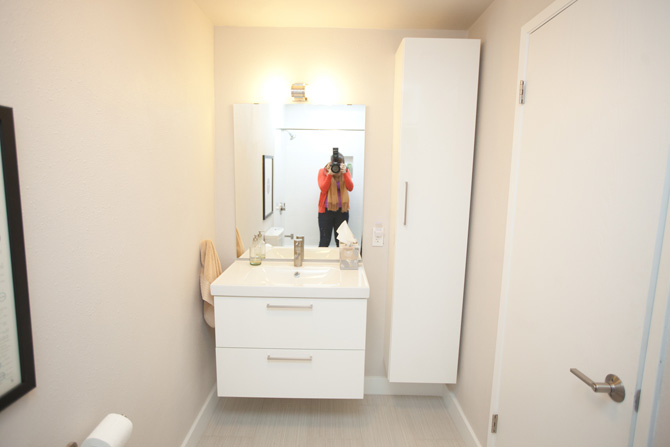 After: We love the extra functional storage we get from the vanity and this tall cabinet.
Second bedroom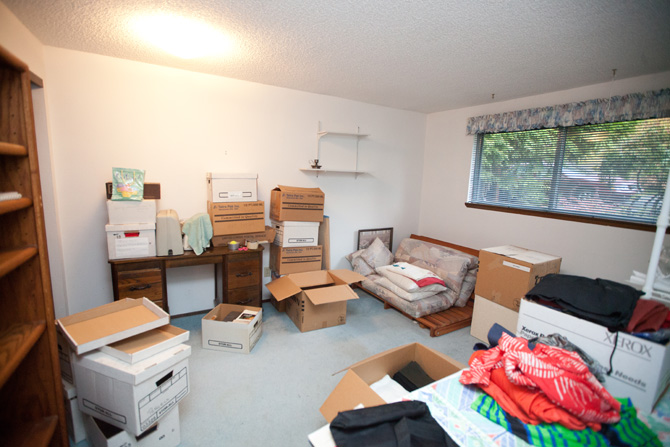 Before: This room was just kind of "blah," with aging carpet, drab window coverings and dark woodwork. Also, note the off-center light fixture. We had those in all the rooms.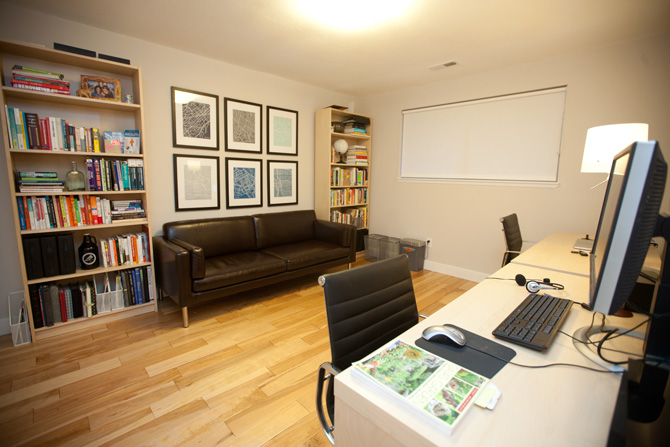 After: This bedroom makes a perfect office for the two of us, and we even had room for a couch (for a small house built in 1975, our bedrooms are really generous).
Third bedroom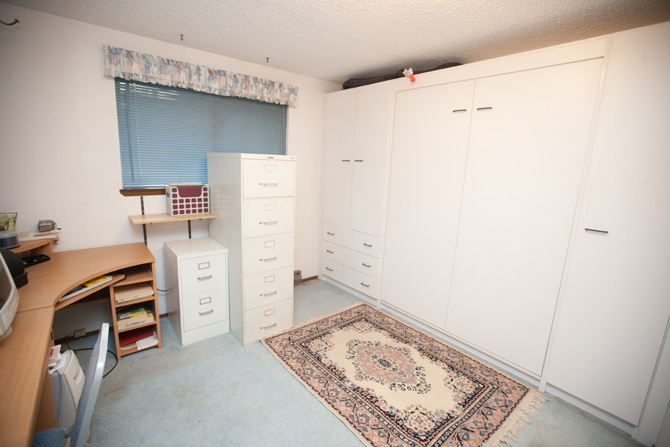 Before: Half-filled with a giant Murphy bed, this room had the most-stained carpet of anywhere in the house and had tons of holes in the walls where shelves, plants etc. had been hung.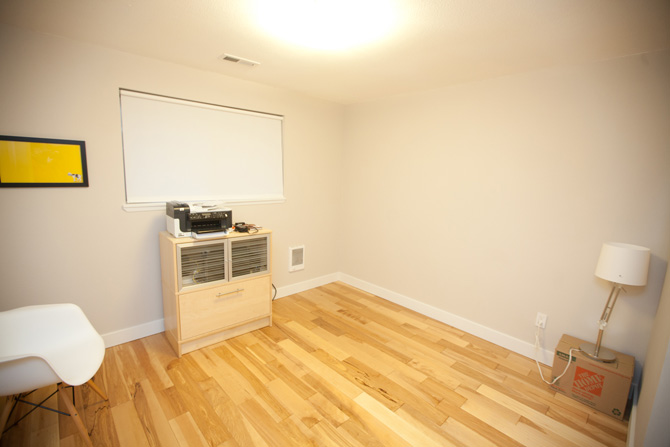 After: We gained lots of extra space by removing the Murphy bed, and soon this room will have an actual bed in it and serve as our guest room.
Hallway and laundry closet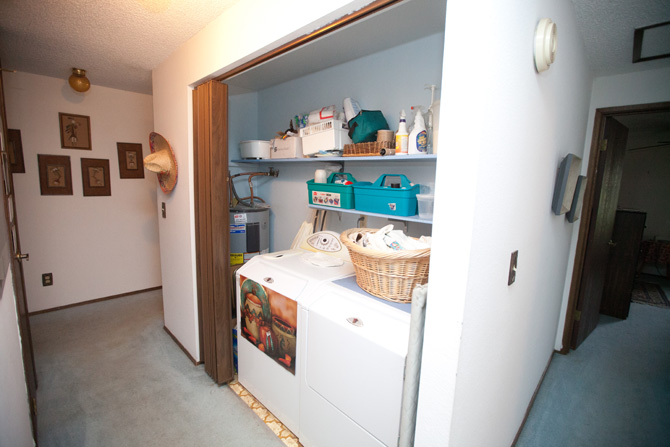 Before: This laundry and water-heater closet wasn't very well utilized and needed a refresh. My personal favorite? The dark brown sliding accordion door.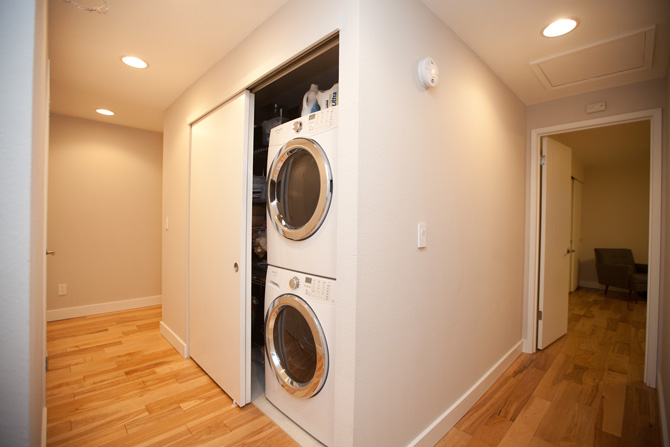 After: By going stackable with our new washer and dryer, we gained tons of storage space. The new doors hide it all away.
Kitchen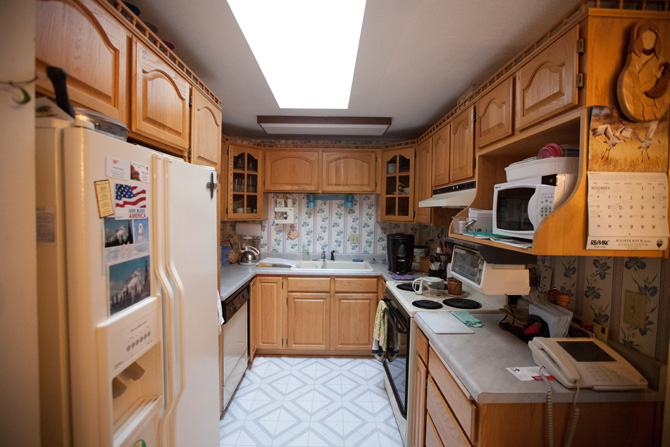 Before: You might call it the crown jewel of the entire house. The kitchen was dated, cramped and not very functional. We did have good bones (and a nice skylight) but we came in seeing this as the room that needed the most help.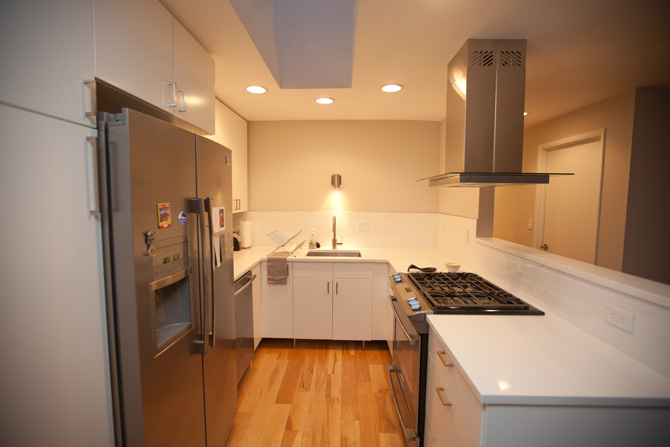 After: This is our favorite room! It's so nice to be able to hang out in the kitchen and chat with people across in the living room, and those new countertops are just as fresh and white as they look. It's a pleasure to cook in and it came out just like we hoped!
Thanks so much for following along in our remodeling journey — we certainly learned a lot during the process. If you have questions about taking on this kind of project, shoot me an e-mail at [email protected] — I'd be happy to shed some light on the experience!