Renovation Diary:
Our 1975 ranch home
I'm documenting my own personal home renovation story here on the blog. To see how we bought our house, you can read part one and two.
Now it's time to turn the story to our remodeling adventure. Once we bought our house, we essentially had one month before we had to move in — and a laundry list a mile long of things we wanted to fix. When we started, because of budgetary constraints, we thought we'd re-do the floors (we've been dreaming of hardwood floors throughout) and paint all the walls inside the house. But as soon as we started, it became a much bigger project.
Step 1: Demolition
This is the part (on HGTV, at least) that looks really fun. Turns out — it is really fun! It also leaves you really sore because it takes strength to destroy a whole house! We did lots of demolition work over the first week of the project, ripping up carpets (along with its accompanying staples and tackboards), cutting a chunk out of our kitchen wall for increased visibility, tearing out bathroom vanities, old closet systems and the entire kitchen. One of our favorite things to tear out was the mirror wall (below). One whole wall of our living room was covered in distressed mirror tiles. That was the first thing we ripped out!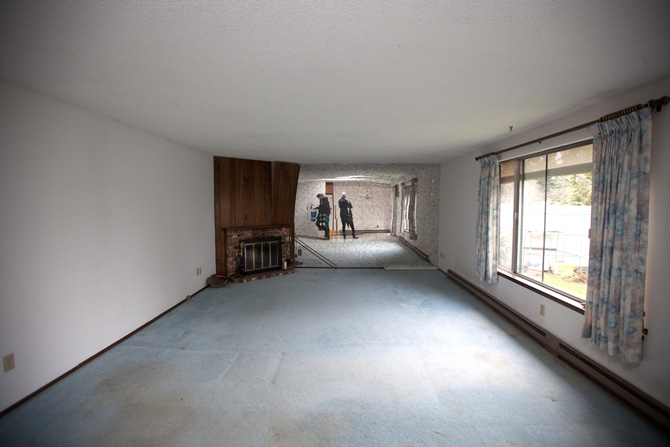 December 29, 2012: This is our living room on the first morning we arrived to work on the house.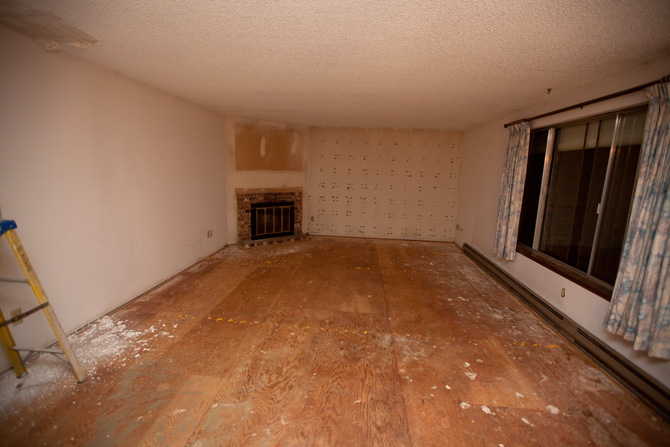 December 30, 2012: This is the living room the next day — mirror tiles gone and wood paneling removed!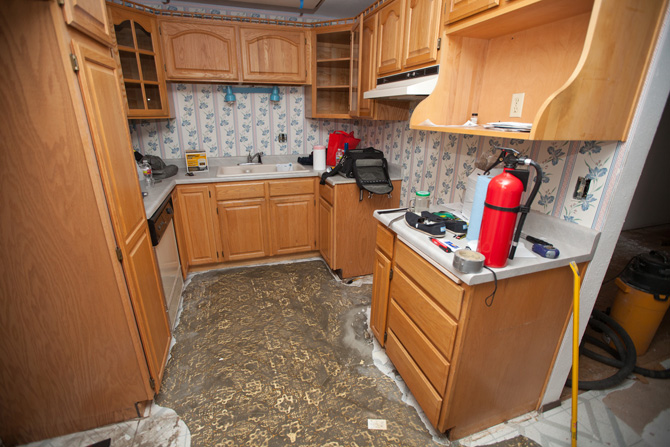 January 1, 2013: This is the kitchen when we moved in (minus some of the flooring and the refrigerator).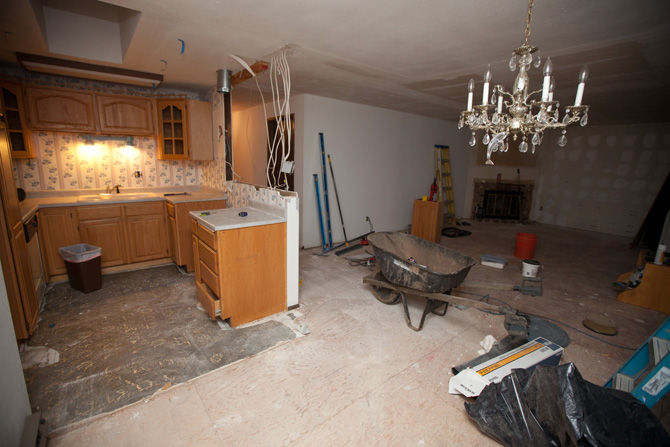 January 2, 2013: Then, we cut away a part of the kitchen wall to allow more space and open the room up to the rest of the living space.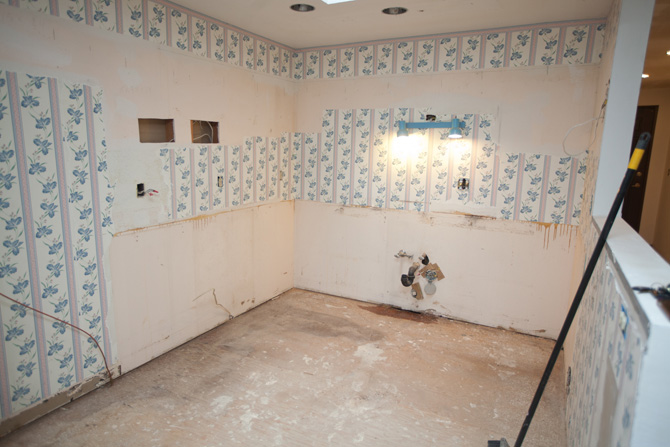 January 6, 2013: This is the kitchen after all the cabinets were pulled out. I was amazed how big this room looked once the cabinets came out!
Step Two: Painting
To give you a general idea of how much time and labor this project took, what you're looking at in this post is about two weeks of progress — with my husband and I working every night from work until bedtime, and during the day we have had 2 general contractors working on the house as well.
Once we got the demo mostly completed, we moved on to painting. In one weekend plus a full Monday, with three to four of us working most of the time, we painted the entire interior of the house. I was totally amazed what a transformation it made to have the place painted!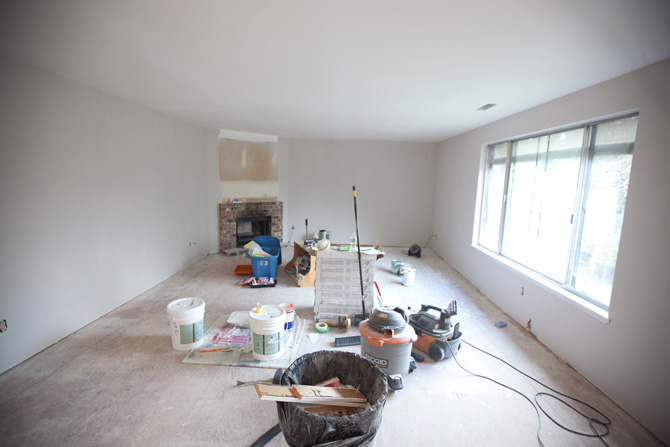 January 13, 2013: I'm shocked at how much lighter and brighter it feels with the new warm gray color on the walls.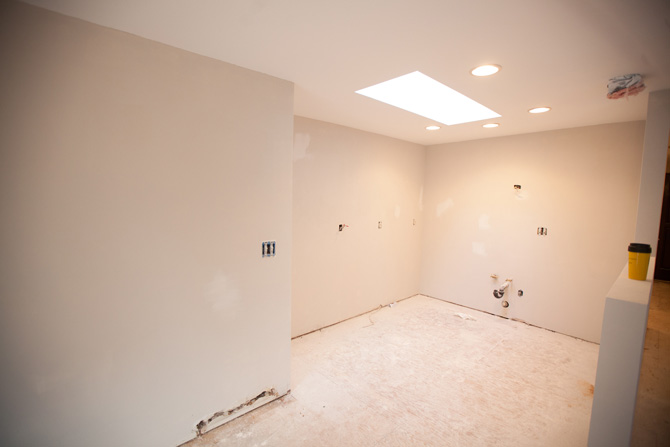 January 13, 2013: The kitchen is one of the biggest reveals of all — I can hardly believe it's the same room!
As of January 15, we had gotten this far — but there's still lots of work to come! We have some finishing touches to do on the sheetrock around the house (there are a few places that will need to be patched) and then they'll be laying the new floors (wood and tile), installing our new kitchen, bathrooms and laundry room and much more. Stay tuned for the next installment!