Making it Home: 1980s West Linn Farmhouse Remodel
Welcome to my new blog series, called "Making it Home." I love seeing my clients turn their houses into homes, whether that's a massive remodel or decorating little corners to feel more like them. I'll be sharing some before and after photos and stories from my clients' houses. They're all inspiring to me, and I thought they might be inspiring to you, too!
I'd like to kick off the series with a peek into the house of Corey and Alyssa, some of my most inspiring clients. I sold them this house in West Linn about a year ago, and it had seen better days. The house was a short sale, having been treated poorly and then left to sit for a long period of time. Flooring was peeling, carpet was dirty, everything was outdated. These ambitious friends of mine were not deterred. They had a vision, they saw potential and the house was situated in the right school district for their three energetic kids, so they dove in head first.
This house is a traditional floor plan home built in the 1980s. The dark woodwork ran through the house, and made the house feel dark and dated.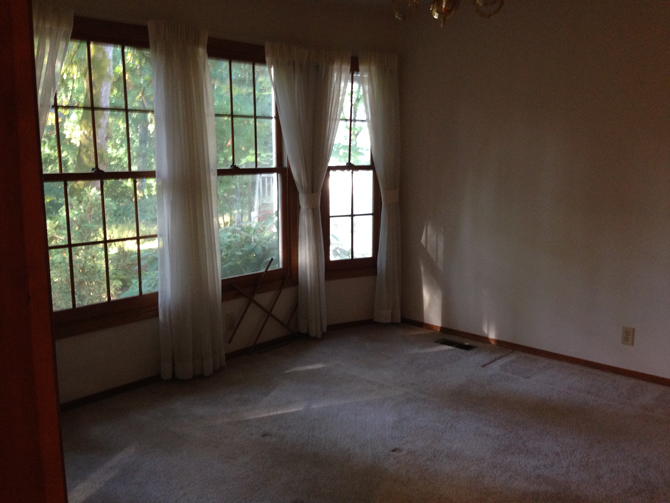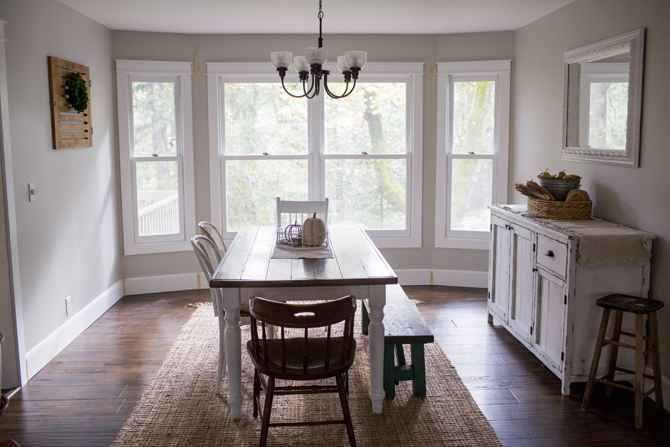 (Dining room, before and after. Corey built the buffet.)
"Our biggest dilemma was finding a new enough house that we didn't run into old house problems but I love the look, feel and charm of old houses so finding something built in the 80s or 90s that had that was going to be impossible. From what I can tell, this is a Dutch Colonial and has a gorgeous (will be again) timeless exterior and items like built-ins and arched openings, and wood windows that give the charm of old windows with the benefit of newer construction," Alyssa said.
"Some of our additions that enhance the charm and style we love is the barn door that separates the family room from the laundry room, and the fireplace and mantel, and shiplap walls."
In the last year, Corey and Alyssa have remodeled almost the entire lower level of the home. They have finished an office, kitchen, living room, family room and dining room. The laundry room, pantry and guest bathroom on the main level are still a work in progress. They re-floored the entire main floor with hardwood and tile.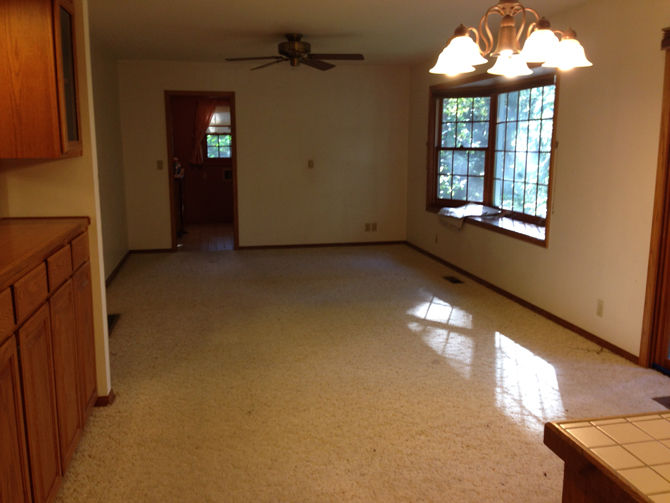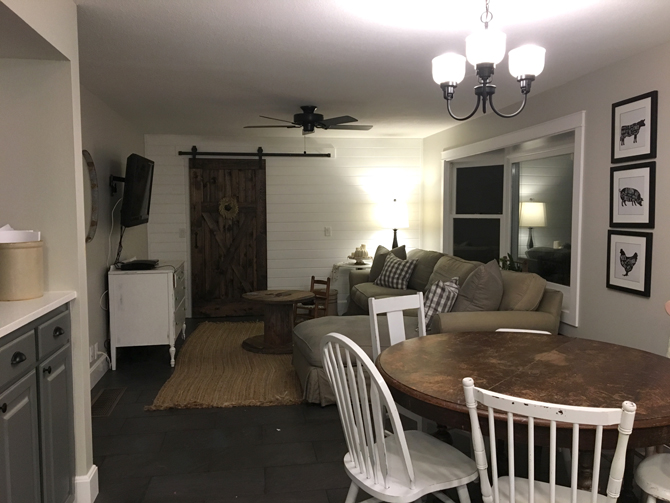 (Family room, before and after.)
"We have three kids, so all products were chosen knowing that we have three humans who are the seek and destroy type," she said.
They've also replaced all the lighting, outlets, baseboards and window door casings. They chose a farmhouse look for their selections — "Joanna Gaines is my spirit animal," Alyssa raves — and tried to pick classic looks that would feel timeless and neutral, while keeping to the style they love. Their tile floors and lighting all came from Lowe's and the wood floors came from Cronin. Corey did all the installation himself.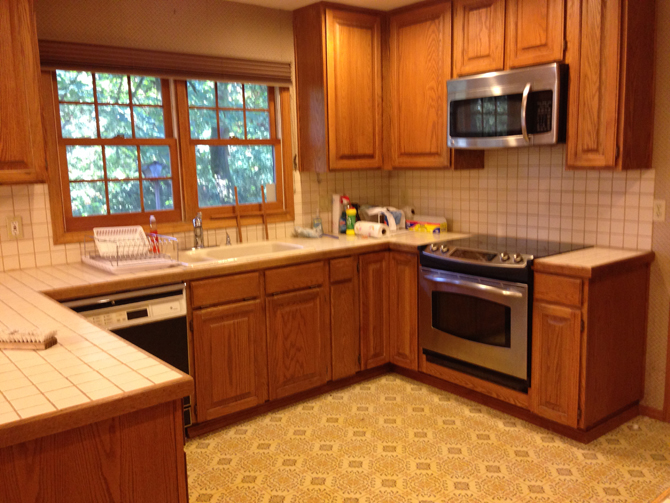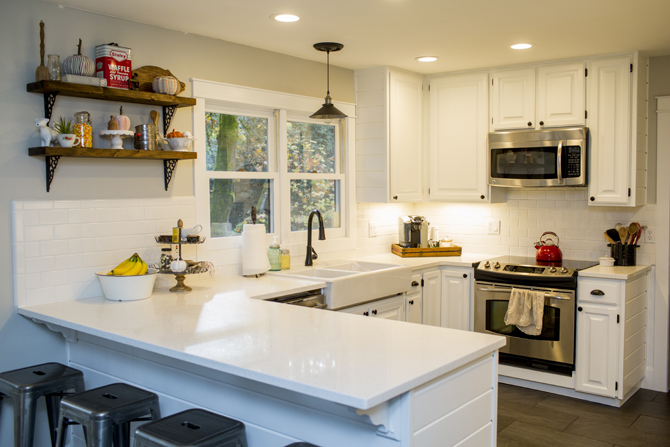 (Kitchen, before and after.)
"The biggest transformation is the kitchen," Alyssa said. "We chose to keep the original footprint of the kitchen, only removing one upper cabinet to install some open shelving." They painted the original cabinets and installed new hardware. "We removed the dated cream tile backsplash and countertop and replaced them with white subway tile and a simple white quartz countertop."
The white quartz was "our biggest splurge and the best money we spent," she said. "It is super low-maintenance and amazingly easy to clean and remove things like pencil, marker, paint, play dough and curry, all of which stained our previous countertops." They got their quartz countertops from Keystone Granite in Salem.
They added shiplap to the ends of the banks of cabinets for a farmhouse look and extended the countertop for a bar eating area.
"I also went with a giant farm sink from IKEA; the price can not be beat," she said. "I search Craigslist for months and home store sales for months trying to find a deal better than $250. I had the same sink in our old house and loved it. Even though I was hoping for one open sink I knew I would like the double sinks."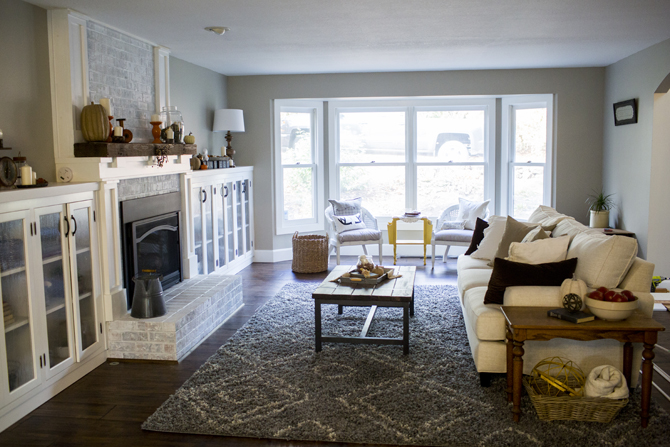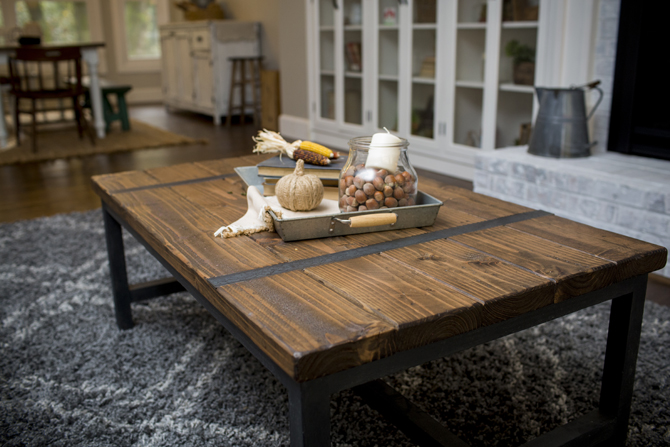 (Living room, before and after. Corey built the coffee table, too!)
As of this post, Corey and Alyssa are re-building their staircase and I hope they'll share more photos when they get to the upstairs!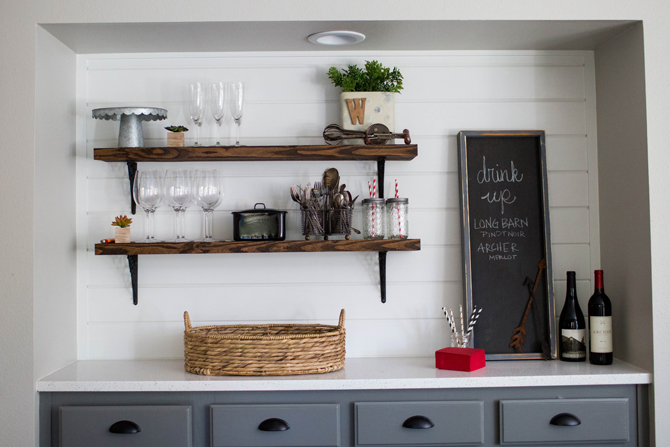 Sources and Links: IKEA | Lowe's | Cronin | Keystone Granite | DIY furniture tutorials for coffee table and buffet came from Pinterest | All the photos in this post were taken by Alyssa, who is a super talented wedding and portrait photographer as Alyssa Jul